THE PROBLEM
WHY WE MUST ACT NOW
Every year, 10 million tons of plastic waste infiltrate our oceans, constituting 80% of marine pollution. Shockingly, only 9% of newly produced plastics are recycled, while 12% are incinerated, and a daunting 79% end up despoiling our natural habitats.* In just the past decade, our plastic production has surpassed that of the entire previous century. But together, we can change this narrative. Let's act now.*
We can make a lasting impact on our planet though, so let's create change together:
Reduce plastic production and consumption
Enhance waste infrastructure and boost recycling efforts
Participate in environmental clean-up programs to remove plastic pollution.
It is time for us to act. With our mission, we want to take active action against the progressive plastic pollution of our seas and encourage a more conscious use of natural resources.
– Benjamin Mandos, Founder
WHY SO MUCH PLASTIC LANDS IN THE SEA OF SOUTHEAST ASIA
In Indonesia, everyone produces one-fifth of the garbage that a US person creates every day – but plastic accounts for at least 10% of that. In addition, there is plastic waste , that is not officially documented and is exported to Southeast Asia instead of being disposed of and recycled directly in Europe or the USA, for example.

Influenced by the size of a country's population, the level of industrialization and education, the number of people living close to the sea, the infrastructure and geographical factors such as weather, topography and vegetation, the proportion of this that is improperly disposed of into nature . Jambeck et al. (2015) assume that it is around 83% in Indonesia. In industrialized countries like the USA it is usually only around 2%. After China, Indonesia is the country where the most plastic ends up in the sea: Up to 1.29 MMT/year. In the US, for example, it is only 0.11 MMT/year.
HOW PLASTIC GETS INTO THE SEA
OUR CLEAN-UP-PROGRAM
WHAT WE DO IN INDONESIA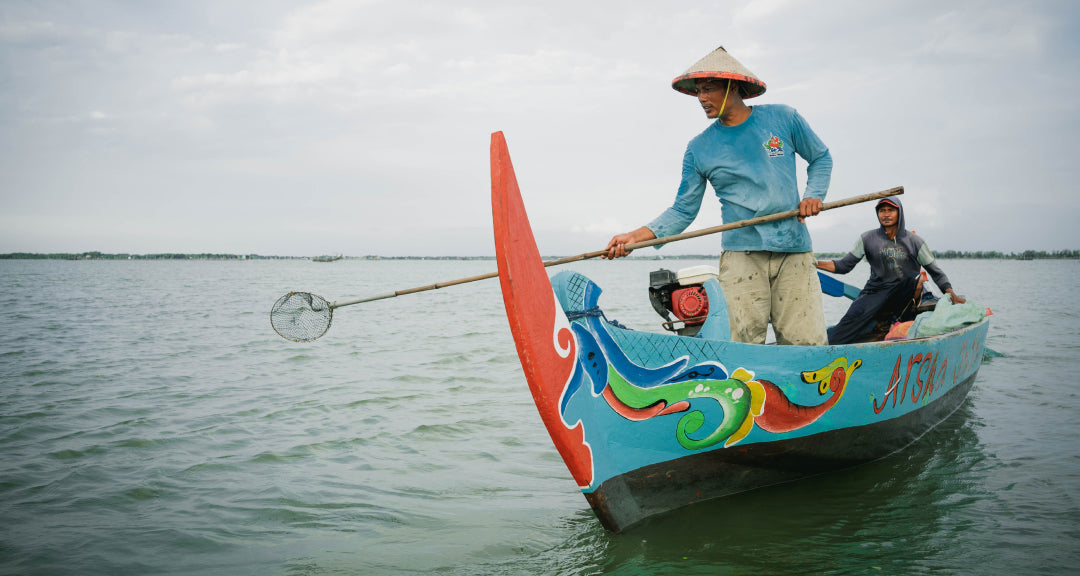 With our clean-up program on the Indonesian island of Java in Demak, Jepara, and Bantul, involving 17 actively collecting communities, we continuously expand the capacity and monthly amount of plastic collected. This ecological commitment brings several advantages: Firstly, it prevents plastic waste from floating in the sea and reaching the ocean by collecting it in coastal and mangrove areas. Secondly, the waste is utilized as a recyclable and useful resource. We now operate the GOT BAG Indonesia Foundation, leading the clean-up program.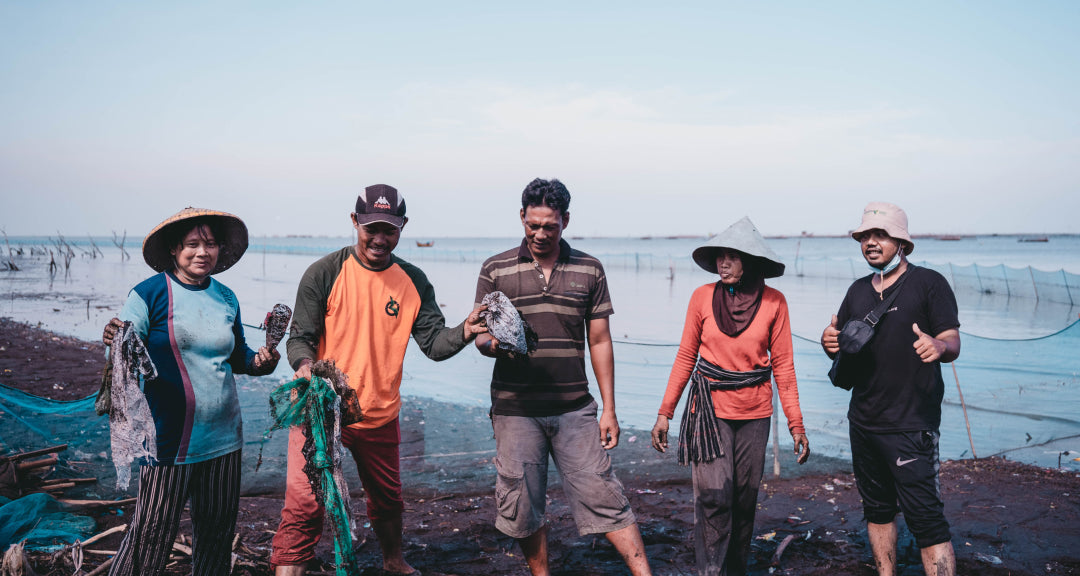 To adopt a holistic approach, we go beyond simply cleaning and processing the PET portion of the collected plastic required for GOT BAGs. We also ensure that other collected plastic types are directed to suitable recycling solutions. The participants in our clean-up program have become crucial multipliers on-site. They share their knowledge about recycling and the negative impact of plastic waste on the ocean, raising awareness about conscious plastic usage within their communities. The concept is effective: We are now closely collaborating with the local government, seeking long-term solutions to preserve the marine ecosystem.
WHAT OCEAN IMPACT STANDS FOR
We call the collected material Ocean Impact Plastic - symbolizing that it no longer poses a threat to the ocean and represents the impact we create together with the GOT BAG Community. It comprises plastic collected from the sea and in close proximity to our collection points - from mangrove areas, rivers, or even shortly after being used. This prevents it from ending up in the sea due to inadequate disposal infrastructure.
HOW THE PRODUCTS GET TO THE GOT BAG COMMUNITY
Since the Indian Ocean is particularly affected by plastic pollution and its consequences, we collect the Ocean Impact Plastic in Indonesia. We make the textile from it in China, because our local partners have the greatest expertise in the world and are geographically conveniently located between Indonesia and Europe:
WHERE WE ENCOUNTER BOUNDARIES
OUR LIMITS
CLEAN-UP-PROGRAM AND SUPPLY CHAIN: 
GOAL: MAXIMIZING REUSE POTENTIAL
Our commitment to freeing the oceans from plastic waste drives us to collect every piece of plastic that harms nature, regardless of its form or type. Instead of only collecting easily recyclable pieces, we ensure to remove as much plastic waste as possible. All collected plastic requires sorting. Thanks to our recycling partners, we can process PET into rPET (recycled PET) and use it for our GOT BAGs (approximately 10% to 15% of the collected Ocean Impact Plastic). Other plastic types, like PP or PA, are sent to other recyclers who mechanically recycle them for alternative product value chains. However, some plastic types are not suitable for our products due to their characteristics or lack of the required purity for recycling. We are continuously in collaboration with partners and scientists to find optimal solutions for recycling these plastics.
GOAL: EXPANDING WASTE MANAGEMENT SYSTEMS WHERE NEEDED AND ENSURING SUPPLY CHAIN
To fulfill our mission, we continuously expand the capacity of our clean-up program, considering social and ecological aspects. We refrain from competing with existing waste management structures and aim to be active where such structures are absent. Due to the complexity involved, it is currently not feasible to solely rely on our own clean-ups to meet the PET demand for production. To ensure continuous production and sustainable operations, we use additional material from partner organizations, certified as Ocean Bound Plastic (OBP), aligning with our requirements for Ocean Impact Plastic.
PRODUCT
GOAL: UTILIZING PLASTIC TYPES BEYOND OCEAN IMPACT PLASTIC'S PET SHARE
Currently, we can only use the PET portion of Ocean Impact Plastic for our products. Other plastic types cannot be processed or do not meet quality standards, and some require impractical efforts for recycling. Nevertheless, our long-term goal is to find uses for these materials. Part of our product development includes not only designing new models but also continually evolving existing elements. For example, we have collaborated with partners like HolyPoly since 2020 to create a Special Edition featuring buckles made from rPP (recycled Polypropylene).
GOAL: 100% 
We aim to minimize the use of virgin materials in our products. This is currently challenging for some equipment elements like foams, nets, zippers, coatings, and buckles. Some components are not yet available as recycled materials in the market, like foams used for padding. While we have tested alternative zippers, they did not meet our standards for functionality and durability. We are currently piloting alternatives for other elements.
GOAL: EXTENDING PRODUCT LIFESPAN AS MUCH AS POSSIBLE 
We believe in the sustainability of having GOT BAG products not replaced but used for as long as possible. We create products that are durable and robust. By optimizing materials and repairability, we work towards extending their lifespan. Additionally, we offer a nationwide repair service, which can be used for free during the warranty period, and a spare parts service for components that customers can replace themselves.
CONTRIBUTING TO A CIRCULAR ECONOMY 
GOT BAG products are made from existing resources as an alternative to conventional backpacks and bags made from new plastic. Our product design emphasizes functionality and timelessness, enhancing their durability. We provide a two-year warranty and repair products within this time to extend their use. While we have not yet found an end-of-life solution or reuse option for our backpacks and bags that are no longer repairable, we are actively working on it.
Our products show that plastic from the environment can be used to create something new. We must work to ensure that more and more plastic is reused in the future and that we all use natural resources more responsibly.
– Benjamin Mandos, Founder
ANY QUESTION?
Would you like to learn more about our mission? Then take a look at our FAQs.